Google Changes for Local Business Due to COVID-19
March 27th, 2020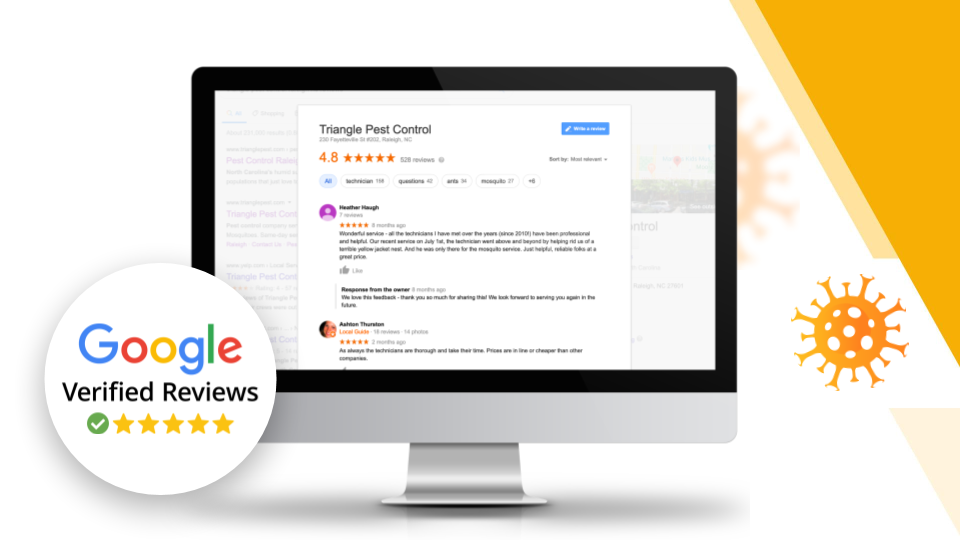 Things with Google My Business (GMB) are changing very rapidly during this evolving situation and it can be hard to keep up with what exactly is going on. We're keeping tabs on some of the biggest need-to-know items to help your pest control business understand how your marketing may be impacted. 
Google has temporarily placed many changes over the last several days as a result of the pandemic: 
Google My Business
Google is temporarily limiting reviews and Q&A on your Google My Business listings. What does that mean?
  ○ Customers can still leave reviews on your listing(s), but Google will not be publishing new reviews, review replies, or new Q&A until further notice. 
  ○ Existing reviews, review replies, and Q&A will still be visible.
  ○ Any newly submitted reviews, replies, and questions will eventually be published (when Google has the resources to do so).
Additionally, Google will be prioritizing listing updates for critical health-related businesses. Expect delays for new profile verification or for edited information to appear in your Google My Business profile. 
  ○ There have been multiple reports of businesses being marked temporarily closed that did not request it. Frequently checking your GMB dashboard will allow you to see if this is occurring to your business. 
For more information on how to managing your GMB profile in the case of temporary closure, please refer to the support team recommendations. 
Google Ads
Google has pledged $340 million in Google Ads credit for small and medium-sized businesses in an effort to help small business owners continue to operate during COVID-19 or more quickly recover once the pandemic has ended.
Eligibility for ad credits is provided to SMB advertisers that have been active advertisers since Jan 1, 2019, ran ads in 10 out of 12 months in 2019, and are compliant with all of Google Ads terms and conditions. The credits vary based on spend, but Google has not yet disclosed that range. 
Ad credits can be used at any point until the end of 2020 across Google Ads platforms (Search, Display, and YouTube). Credits cannot be applied retroactively but may be used for future spend. The Google team is in the process of rolling these out, but eligible advertisers can expect to see a notification in their account in the coming months. 
Google is also attempting to limit the spread of misinformation and minimize brands' ability to capitalize on the coronavirus for marketing purposes by rejecting ads that use the words "coronavirus" or "COVID-19." They are suppressing this regardless of if they are "approved" in the interface. This applies to keywords, ad copy, and creative - Facebook is taking the same actions.
Here's what we did for our clients to play by the rules: 
Instead of writing "We Are Open During COVID-19", we changed to "We Are Open - Call Today"
Delayed Support: Google Ads & GMB
There are a few support options for Google Ads that may be temporarily unavailable or delayed, due to this unprecedented situation. 
  ○ Contact forms are remaining open, but phone lines for Google Ads (including GLS) are shut down right now. 
  ○ Evaluate your ads regularly and review these considerations for navigating your campaigns through COVID-19.
  ○ To help with specific questions you may have about what you're allowed to do with ads, use the Google Ads Help Community to find updated information and answers.
Coalmarch is committed to helping small business owners minimize the impact of COVID-19 on their operations, marketing, and sales. We will continue to provide helpful information as the industry adapts to the unique challenges this pandemic has presented.