Use Nextdoor to Promote Your Service Business
January 25th, 2021

We're more globally connected than ever.
Social media allows us to take our news across the world quickly, search engines make it possible to find information at the drop of a hat - yet for small business owners, it remains a struggle to get in front of your local customer base.
In a digital landscape that has prioritized national brands and big-name chains, Google has begun taking steps to adjust search results for locally-focused searches, and while that local search visibility is more important than ever, small business owners don't have to rely on Google alone to help them reach their audience.
Enter Nextdoor - an app that creates a social media environment exclusively for a single neighborhood or small subsection of a larger city/town. Neighbors can use the app to discuss local events, chime in on neighborhood news, coordinate borrowing between neighbors - even to gossip about the corner house with the loud dog.
And because it was designed to facilitate communication amongst neighbors, Nextdoor has also become an efficient way for neighbors to ask for recommendations and share personal experiences using local service businesses.
Why is this useful for your business?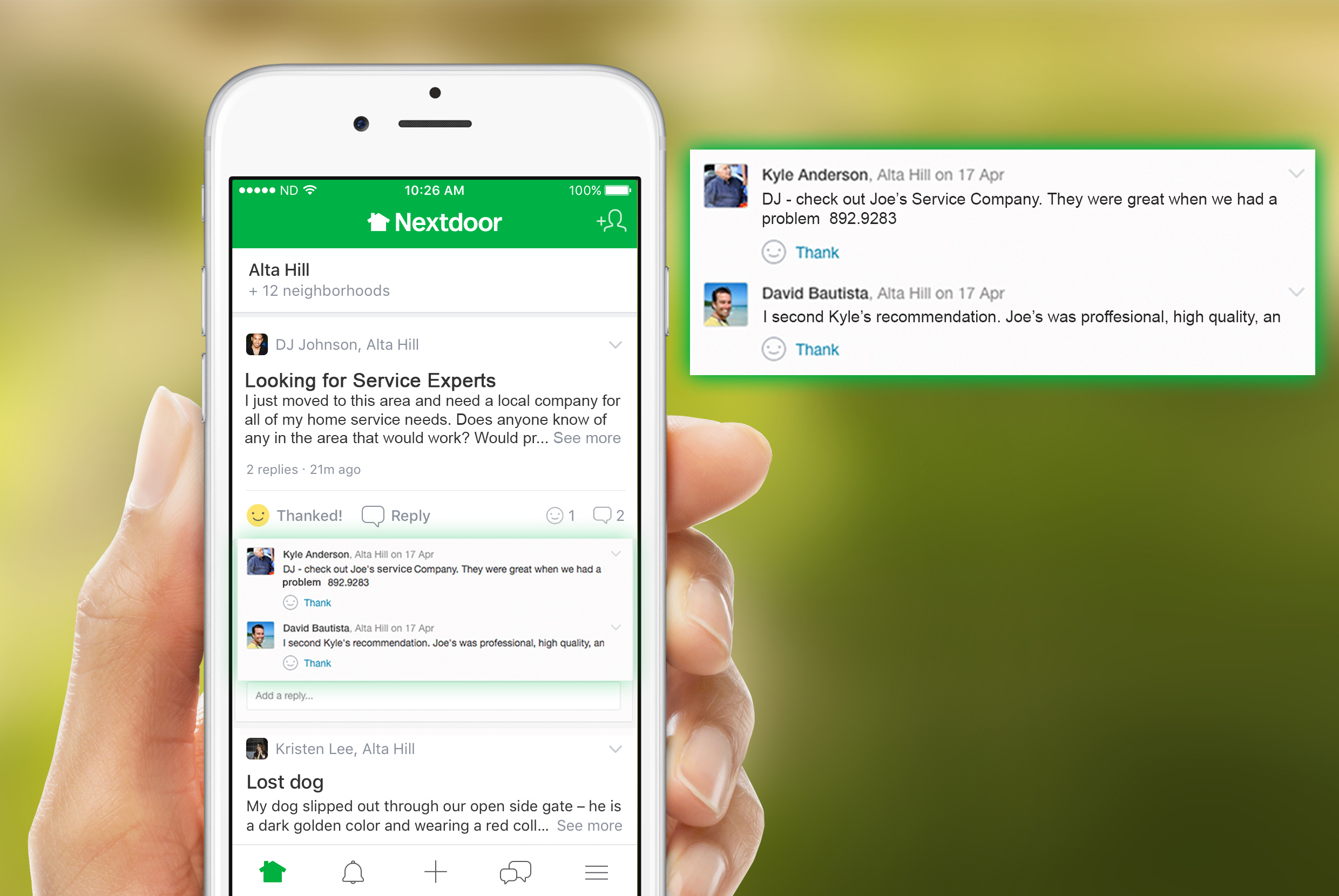 Though online reviews have grown in importance, word-of-mouth recommendations continue to be an important part of the decision-making process, particularly when it comes to service-based purchasing decisions.
Positive reviews build trust in your brand; and compared to other review platforms like Yelp or Google My Business, Nextdoor is able to capture reviews and recommendations directly from people within your community.
In fact, local home service companies (roofers, cleaning companies, lawn services, plumbers, HVAC, pest control, and more) are currently among the most searched and recommended businesses on Nextdoor.
Think about it: If you're looking for a lawn care, pest control, or HVAC company in your area - who better to ask for recommendations than other homeowners than your next-door neighbors?
Nextdoor has even taken the next step to help users share information about recommended local service businesses, creating profiles that show all comments and reviews about a business on a single page, as well as listing the most-recommended local businesses in an area by category.
Claiming your business profile allows your contact information to be easily accessible when members of the community recommend your business and establishes brand awareness and trust within the local area.
How do I claim my local business page on Nextdoor?
To claim your local business page on Nextdoor, you must be either the owner, an employee or an authorized member of the company.
Search for your company name in the Nextdoor directory

When options pop up, click "Claim" next to your company

Enter your name, the email you'd like to use, and a password. Alternatively, if you already have a personal Nextdoor account, you can claim your Local Page by clicking Sign in to use your personal account to claim.
After claiming your page, Nextdoor will verify your association with the business by calling your phone number. You'll be asked to enter a verification code.
More than one business? You can claim up to 10 Pages with a single account or you can claim each Page with a different account.
Once you've claimed your profile, ensure that your business listing has the correct address, contact info, logo, and information on the services you offer. Think of this as an extension of your website.
How do I maximize the benefits of Nextdoor?
Claiming your page is just the beginning of your Nextdoor journey.  Before you get uneasy about adding yet another social platform to manage, take note that Nextdoor is inherently simple. This platform is not about blowing up your neighbors' news feeds with intricately worded messages and remarkable photographs, it's about joining the right conversation at the right time.
As with any review platform, your goal is to get authentic positive, trustworthy reviews from real customers. The magic of this app is that those conversations happen organically.
Follow these best practices to get the most from your Nextdoor efforts:
Don't be afraid to respond to people's posts asking for recommendations and tag your company - but always disclose your relationship to the business! Honesty is an important value for Nextdoor, and this gives you an opportunity to establish yourself as a trusted resource in the community.   This is a great way to build a presence without taking over the neighborhood's feed.

Utilize the new Offers feature.  This feature allows businesses to post discounts and promotions to their local customers.  You can dial down to target specific neighborhoods or use the default setting to contact your maximum reach.  Remember a little goes a long way with offers too, think of using two per week, max!  For more about how to set up offers and what they can do for your business, check out this article.

Avoid making unsolicited posts about your business in the newsfeed. Every user in your neighborhood can see the newsfeed, and spammy posts can come across as pushy and damage your business' reputation.

Speaking of reputation, Nextdoor is the place to see how customers are talking about your business.  Use it as a tool to monitor your reputation and address concerns that your customers are sharing. 
If you're looking for a way to gain an edge over your competitors when it comes to building local awareness and trust in your company - Nextdoor offers you the chance to get your home service business directly in front of your customers.
Looking for more ways to get in front of potential customers, giving them the right information when it matters most at each point in their buying journey?
Our free guide, How Do Customers Buy Pest Control, has everything you need to know about what customers are looking for, what you can do to set yourself apart, and how you can close the deal faster.