How Flexible is Your Site?
March 14th, 2019

Recently, we've been playing with a new (to us) feature in Drupal. Paragraphs. And we love them. As a matter of fact, we love them so much, our whole website is written using them. 
They're the ultimate in flexibility. They let you mix and match your content like you mix and match your clothes. You're no longer locked into one content layout.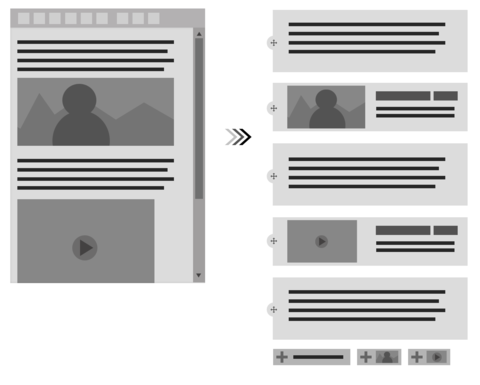 So what are paragraphs?
According to Drupal, paragraphs "can be anything you want, from a simple text block or image, to a complex and configurable slideshow".
Anything. You. Want.
For example, on Coalmarch, we've developed 25 different paragraph types used to create our site.  You probably won't need this many, and some will get more use than others, but isn't flexibility nice?
So how do they work?
Once we've determined the types of paragraphs you'll need for the content you want to create, created them in the back-end, and styled them for the front-end, it's really rather simple. You simply select the paragraph type you want to use, add your content and settings, and repeat for all of the content you need to create.
But what if I don't like the order?
What if I want to rearrange two of those paragraphs to make the content flow better? Or I want that file download higher on the page? Paragraphs are so flexible, you can drag them up or down to rearrange their order.
What would I use them for?
For most of our clients, paragraphs are ideal for creating blog posts (this is how our team uses them the most, as well). It allows you to make each post unique while staying within your design theme. Each post can follow the content structure you need based on what you're trying to say.
But they're also good for designing your high-level landing pages. What better way to make your content more appealing and engaging than paragraphs? Did I mention almost every page of our site is built on paragraphs? We utilized paragraphs to create cohesive pages that aren't repetitive in layout or visual impact. They allowed us to let the content dictate the page layout. 
In addition to using paragraphs to build our own website.  And paragraphs are a feature we're bringing to our Websites!
What's the catch?
Don't get us wrong - we know paragraphs do have their limitations. They're not ideal for creating content you'd like to use again and again throughout your site, such as a list of services you offer. And, unfortunately, at this time you also cannot create a paragraph and then temporarily un-publish it, so you have to be ready to share that piece of the puzzle with the world right when you create it. 
But these are minor in comparison to the benefits of using them. (And, here's a secret: we're working on fixing those problems.)