Hope Lawn Care - a 1-Day Website Challenge for a Good Cause
July 24th, 2020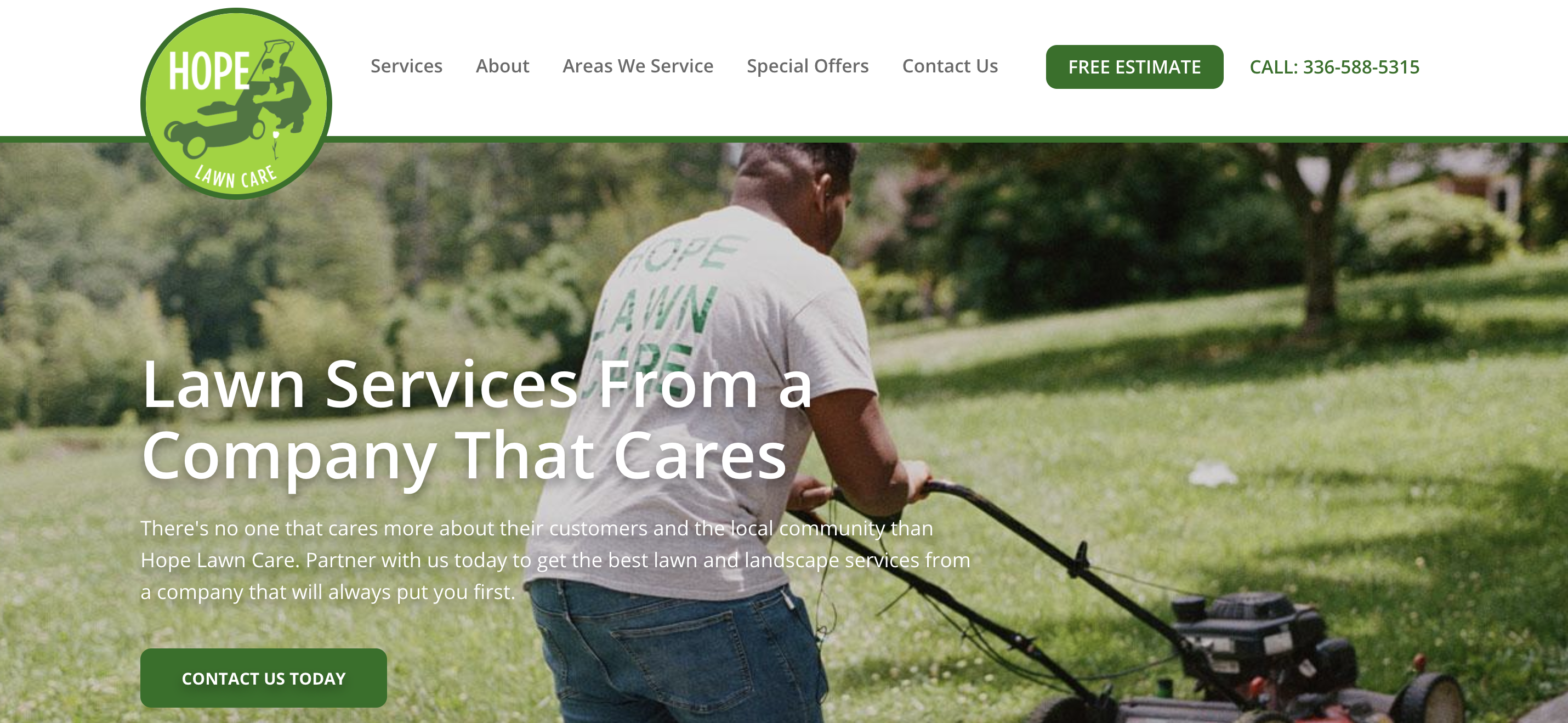 At Coalmarch, we talk a lot about how passionate we are about growing service industry businesses. 
So when we heard about Hope Lawn Care, a lawn care company in Winston-Salem, NC (just down the road from our Raleigh office!) we knew we'd stumbled upon a really great opportunity to live up to our mission.
Just three months into operating their business, facing the normal challenges of a launching business as well as additional difficulties posed by the COVID-19 pandemic, Hope Lawn Care went viral after sharing an incident on Facebook. 
Their team was beginning work at a new client's home. A neighbor reported that four black men were driving around in the area, possibly performing yard work - and officers were dispatched to investigate. 
The police dismissed the issue when they arrived and were able to see that the men in question were clearly doing work, but Hope Lawn Care owners Sarah and Mike Avery weren't willing to let what they felt was a racially motivated response be swept under the rug. Especially in the wake of national outrage and rallying after the death of George Floyd at the hands of police, they saw an opportunity to set a good example in support of their employees and question whether covert racism could be tolerated within their community. 
Their community didn't just respond - they shared the post with a national audience. Messages of support and financial donations flooded in from around the country. The post has since been shared over 5K times. 
Our team was moved by their commitment to their employees, their message, and inspired by their devotion to providing access to job training and opportunities to people in their community. 
We work with growing pest control and lawn care businesses of all sizes, but it's not every day we get to help one that is just getting started. We wanted to put our expertise to good use by finding a way to encourage them and amplify their voice, helping them continue to grow their business. 
So we built them a website. 
… And we did it in a day.
Here's how we pulled it off:
We called in a Volunteer Day (Times thirty!)
One of the perks of being a Coalmarcher? Every team member gets a paid volunteer day each year. We try to live out our company values (HUPPSA!) daily, so it's a little incentive to our staff to take a break every once in a while and do some good in the community. 
We've been known to frequent a soup kitchen or Habitat for Humanity job site, but as it turns out, doing community service in a pandemic - when we're supposed to be indoors and specifically not out in the community - is a little bit tricky. 
This was the perfect opportunity for our team to put their volunteer days to good use - so we set aside our normal day-to-day and rolled up our sleeves. 
We put our process to the test
There's a reason we don't normally do this in a day. 
(In fact, it typically takes us three months to build a website from start to finish!) 
Before we even begin building a site, there's a lot of time and research that goes into understanding existing site performance, the competition in each market, keyword research, site architecture, and content strategy. There's also a lot of strategy we put in place while we're building and before to launch to make sure you don't just have a gorgeous website - you have a gorgeous website that performs. 
We customize this strategy to give every client exactly what they need to move the needle for their business, but because we're the leading experts when it comes to pest control and lawn care marketing - there's also a lot we have down to a science! 
Since Hope Lawn Care is just getting started, they didn't need a lot of bells and whistles. We were able to simplify and rely on the basic foundation of our website strategy to do the heavy lifting - and what better way to really test the process than to get all hands on deck and run through it in 8 hours?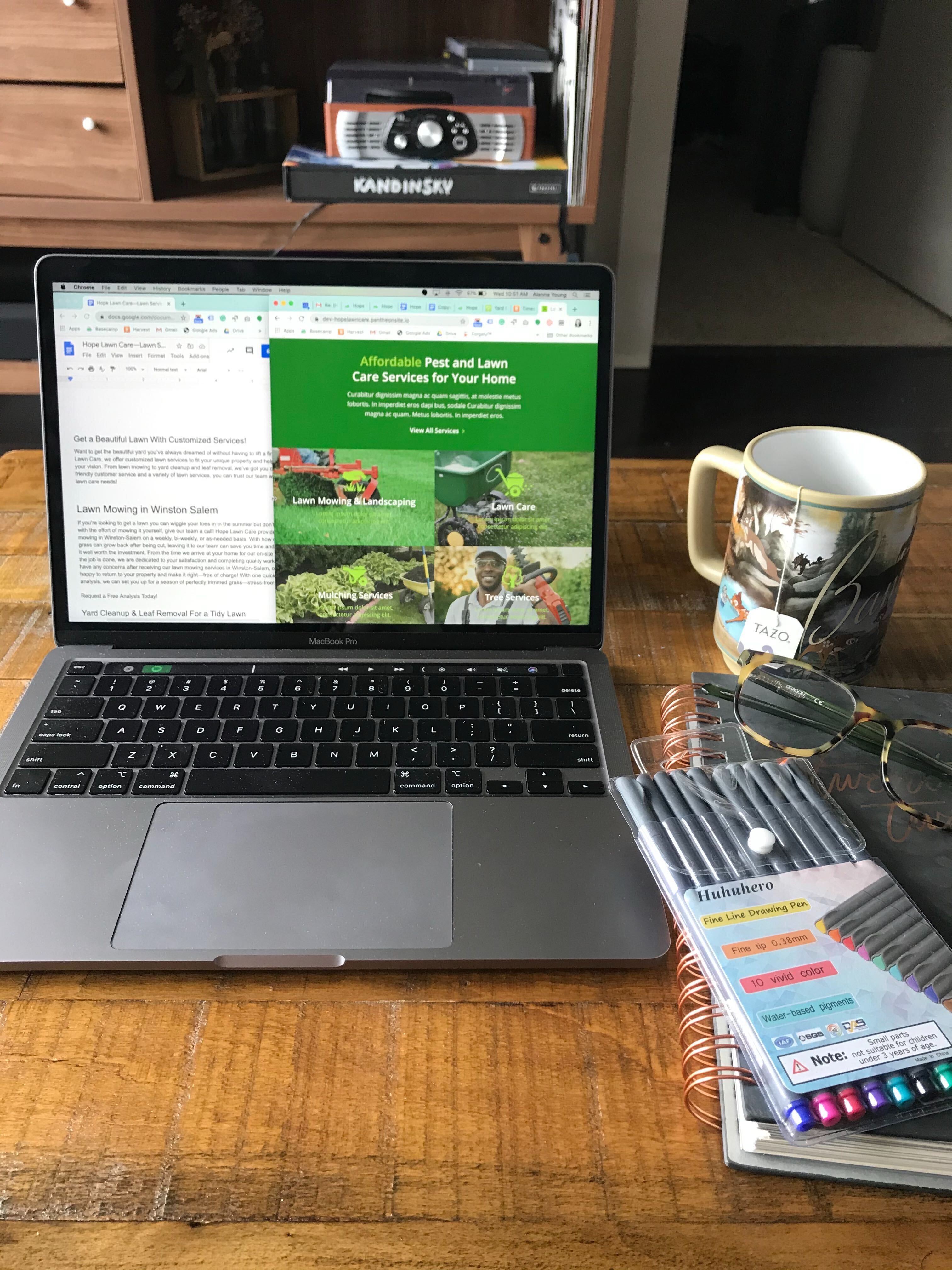 We had a lot of fun
We have so many client and internal projects going on at any given time that even when we're able to work in the office together, it's rare to find us all collaborating on one project. 
SEM specialists got to flex their content muscles.
The sales team rolled out the website so developers could get to work.
Account managers got to use SEO team processes for a change.
We even documented the whole process on our Instagram story - so if you've ever been curious about the behind-the-scenes of building a lawn care website looks like, here's your chance! 
We stayed on track with Hangouts and a running Slack conversation, and at the end of the day, we're really proud of what we created for such a deserving company! 
We're looking forward to continuing to see Hope Lawn Care grow and do wonderful things in their community.

To check out what we built, head over to www.hopelawncare.org!