Website Trends: What Should Your Website Look Like in 2023?
February 27th, 2023

In 2023, finding success in the digital landscape is no longer a guarantee. Gone are the days when you can throw up a decent-looking site and expect it to completely transform your lead flow. Your website is a powerful and necessary marketing tool that should be actively working to grow your business. If you don't keep up, you will fall behind. It's essential to make sure that your site is optimized to bring in leads, convert those leads into customers, and provide those customers with the information they're looking for. It should be strategically designed to convince customers to choose you over all other options out there.
Think of your website as a journey for every visitor. Your goal is to guide them through their decision-making process to get to the end: Contacting you and signing up for your services. In website terms, it's called the Conversion Funnel. And while it is inevitable that in each stage of the process, you will lose people, if your site is designed with conversion as its primary goal, you can maximize its impact and increase your lead generation. This is done by keeping the journey short and informative based on the user's needs.
Here's what it looks like: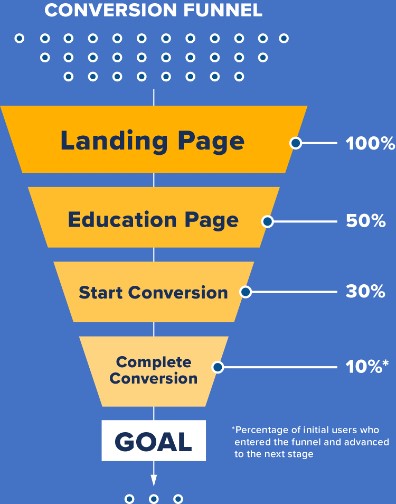 Not every customer who visits your site starts at the top of that funnel. Each visitor has a different starting point based on what they already know and what research they have done before getting to you. This awareness of your brand and the service you provide will impact the amount and types of information they need to see to make the decision to commit. 
High-awareness

customers already know all about you. They know and trust your brand, are aware of the services you provide and they're close to purchasing.

Moderate-awareness

customers may not know who you are, but they know what they are looking for and need to be convinced to choose you.

Low-awareness

customers aren't sure they need a professional solution. Often times these visitors are searching for information or DIY tips.
Search terms will vary based on each customer's awareness level. If your website is focused on maintaining the conversion funnel structure, they should be directed to a page designed for their specific needs. This could mean easy access to instant signup, or more informational content geared toward convincing someone to sign up for your services. Here we will talk more about these awareness levels and things you can do to make the most of your site traffic, increase your lead flow, and optimize your website ROI.
High Awareness Visitors: Time to Close that Deal!
Your homepage is the number one most visited page of your website. With an average of 70% of this traffic being first-time visitors, this is your easiest group to convert. Most of these customers are searching your name directly or clicking on your site because they recognize your brand when they search for a service. Your website's main goal is to easily present a way for them to contact you and reduce any barriers to entry. You can do this by:
Providing an easy way to see your package information.

Including strong calls-to-action and easy-to-access contact forms.

Simplifying the webforms on your site. Requiring users to provide too much information could keep them from filling out your form. You can always get more information in your follow-ups. The goal here is to get a name and phone number or email.

Adding

click-to-text

and

live chat functionality

to allow potential customers to contact you in a way that is easiest for them.

Starting a customer referral program. This is an easy way to create awareness for your business and generate more opportunities from this high awareness level group.
These visitors know what they want and are ready to sign up…make it as easy as possible for them to do so!
Moderate Awareness Visitors: Convince them to choose you.
This target audience is where your website needs to do its best work. Typically prospects with a medium level of awareness don't know your brand specifically and are doing "city + service" types of searches in Google. While their awareness is not as high, their intent is still strong and if your website is structured right, you can increase their knowledge of you and your service and convince them to buy.
Your website needs to include pages that are geared towards a specific geographic area and optimized for "city + service" searches – for example, if someone has searched for "pest control in Denver." These pages, on average, will be the second most visited type of pages on your site. We can tell the user's intent to purchase is high for these visitors because they have the lowest page bounce rate, spend the most amount of time on your site, and tend to visit multiple pages on your website.
These pages should be designed to educate on your company's value and your various service offerings. To increase the effectiveness of these pages, here's what you should include:
Showcase positive online Google reviews that highlight good customer experiences and a high rating – This is the #1 most important thing you can do to promote your business. Potential customers trust their peers' recommendations more than anything else. If you do not currently have a review generation program, this is a great way to help increase your online presence. Bonus...companies with a lot of positive reviews on Google, also tend to perform better when running Google Local Services ads.
Clearly communicate the benefits of working with you – do you offer a money-back guarantee? Same-day service? What are the things you offer that your competitors don't?
Highlight your professionalism and expertise. How many years have you been in business? Any industry certifications to highlight? Professional associations?
Show them who you are and your company culture! Ditch the stock photos in favor of personalized pics of your crew. Show them you are a company they want to work with.
Highlight your service offerings with clear, straightforward package information. Keep it simple!
Low Awareness Visitors: Time to educate
The low-awareness visitor typically lands on your site looking to learn about the problem they're trying to solve. They don't know what they need yet – so this is your chance to show them that you know what you're talking about and can help them out. This is where blog pages come in. Blog pages are great for bringing in new visitors, but they usually have a low conversion rate because people who are googling for tips or advice aren't necessarily ready to buy something right away.  
A big part of their value is to demonstrate topical authority on related subjects to Google so that your site as a whole is perceived as a subject matter expert, and so it helps the other pages on your site that are targeting higher awareness keywords rank better. For the reader, blog pages introduce your brand, showcase your company as knowledgeable and trustworthy experts, and gently encourage visitors to buy your services.
An effective website will be a cohesive representation of the customer experience from start to finish – starting with awareness, moving through education and landing on conversion. Looking for an optimized site that will take the entire journey into consideration? Partner with the experts at Coalmarch. We're ready to help you build a website that's crafted for maximum effectiveness at every step of the way. Get in touch today to see how we can help you attract and close more website leads!