7 Pest Control Marketing Techniques to Increase and Convert Leads
March 29th, 2021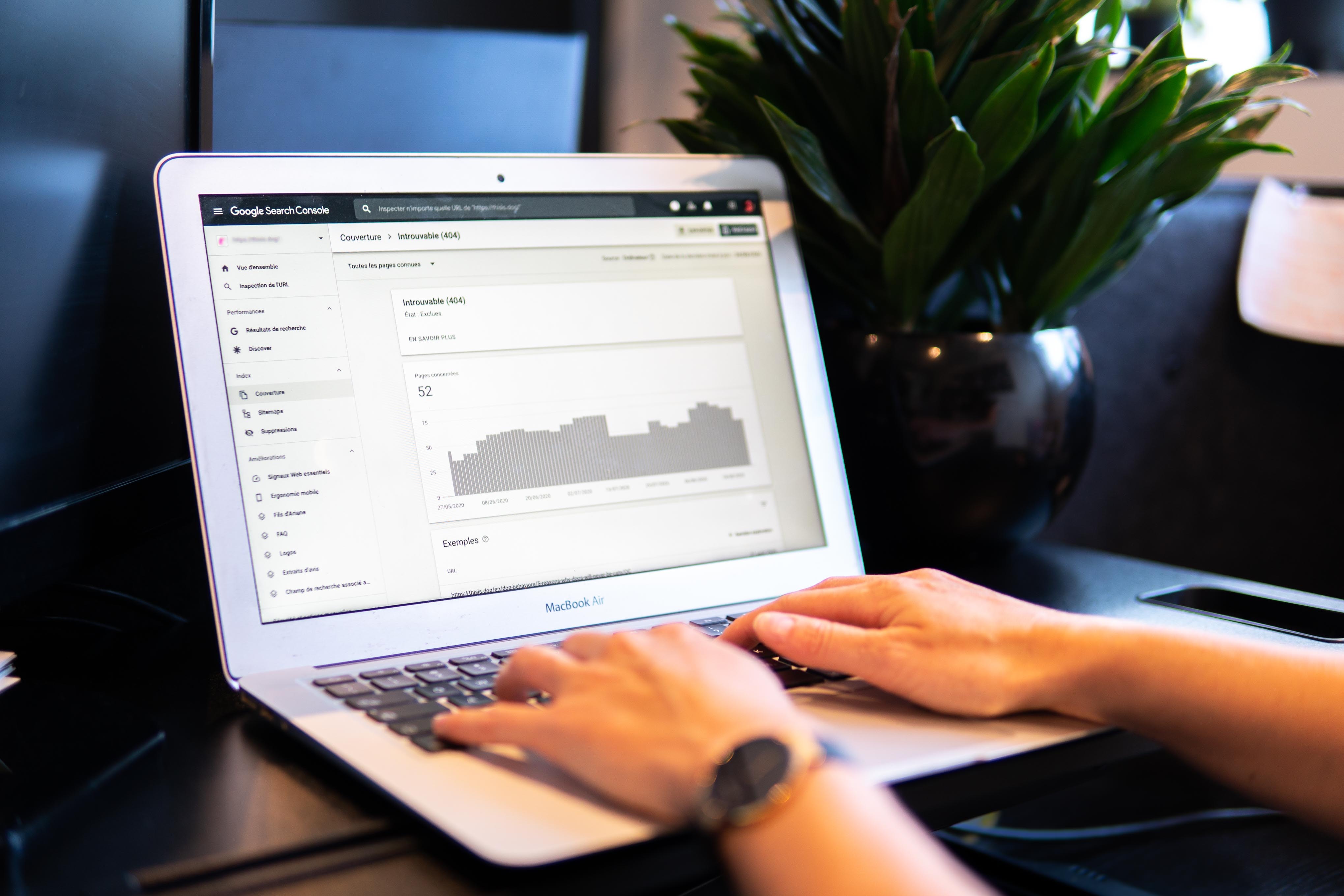 Whether you're a one-person operation or a nationwide pest control company, your problem is the same: you need to attract and convert new customers. But how do you market a pest control business? Is word of mouth marketing still the most effective form of pest control marketing? Sure, but the competition isn't what it used to be. We now live in a world where people can simply reach into their pockets for a device that allows them to search for the best pest control business near them. That's why it's a good idea to add some digital marketing strategies to your word of mouth marketing. This article will give you seven straightforward steps for getting more leads and converting at higher rates.
1. Optimize Your Pest Control Business Website
First things first—evaluate the effectiveness of your website. When a prospect lands on your site, you've already won half of the battle (that being search). Is your website helping your business win the other half of the battle, or are you losing customers to poor user experience and lead generation? To start, go to your website's homepage. Try to see your website through fresh eyes. Imagine that you're a potential customer landing on your website for the first time. What do you see? Is it easy to understand and navigate? Does a new visitor understand the services you offer and the benefits of picking your company?
Allstate Pest Control of Adelaide, Australia has one of the best pest control websites we've seen. The design is clean and simple. The images are high quality and engaging. It doesn't overwhelm the visitor with text. Best of all, it's obvious how to take the next step. The business phone number—plus an option to text the business—is provided clearly without making the visitor search for it. And if the visitor isn't quite ready to reach out, they can learn more about Allstate's services in the orange banner which shows a library of pest and rodent services they offer. Additionally, Allstate Pest Control has added Webchat to the bottom-right-corner of their website, allowing visitors to reach them via text messaging with a single click.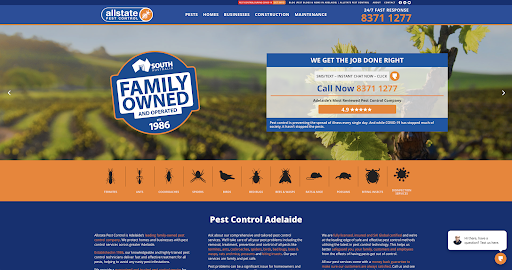 2. Use SEO To Bring More Traffic To Your Website
Now that your website is a conversion machine, how are you going to bring more visitors to your site? That's where search engine optimization (SEO) comes in. To understand search engine optimization (SEO), it helps to understand that there are two different approaches to getting web traffic: paid and organic. Organic is essentially any effort that brings you web traffic without paying directly for that traffic (this is where SEO comes in). Paid, on the other hand, is any search ad that you pay for directly. For example, pay per click (PPC) is paid advertising. Because you're paying for those ads, they produce immediate results. Additionally, they allow you to more precisely target the type of person you're looking for. But along with these benefits come some drawbacks. Once you stop paying, they stop producing. Organic SEO, on the other hand, takes more effort upfront but continues to pay off well into the future without perpetually throwing money at it. 
To start, optimize your website for local keywords as you want to compete locally for keywords like "pest control near me." Incorporating keywords into your website and social media profiles makes you easier to find online. Reviews can be another great way to start improving your SEO.  Google uses review signals that favor businesses based on review quantity, velocity, and diversity, so try to keep a healthy balance of these different review signals. For more detailed SEO tips, check out this guide.
3. Dominate Your Local market With The Map Pack and Google My Business
Local SEO is search engine optimization but focused specifically on ranking for local terms. Searching "pest control near me" leads to a list of some of the highest rated pest control businesses near your current location. Look at the image below. Pay attention to the hierarchy of the results page. Google provides a few sponsored results first, followed by pay-per-click (PPC) ads. Note that these are all paid ads which are another important aspect of advertising, but let's stay focused on SEO for the moment. The most important piece of the results page is below the paid ads in what is called the "Map Pack".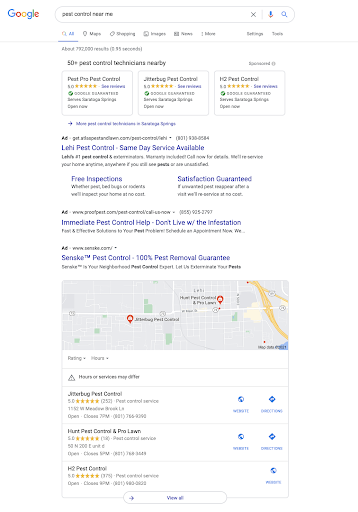 Local search revolves around the searchers proximity to the offering they're looking for. Google places the top three results in a feature called the Map Pack (as shown below). How crucial is it for your business to show up in the Map Pack, you ask? Well, the first three listings of a Google search get 60% of the clicks, so we'll let you decide.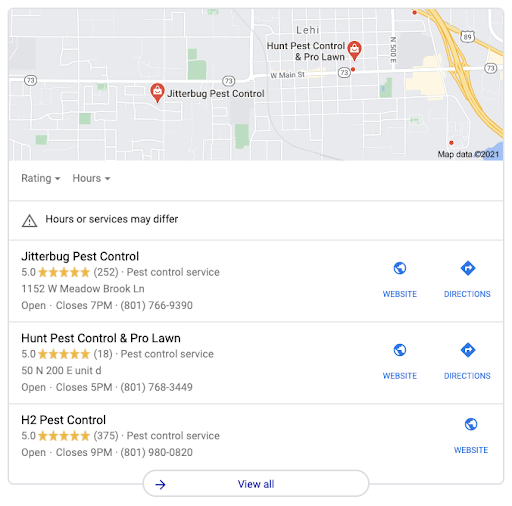 How does Google decide which businesses show up in the Map Pack? The answer is threefold: (1) relevance, (2) distance, and (3) prominence. To make sure you're relevant, keep your hours accurate and up to date and make sure your Google My Business (GMB) listing has complete information including a description of your business. When it comes to distance, you need to make sure to verify your locations. Finally, prominence is mainly driven by whether your business has a high number of recently posted online reviews with a high average rating. Overall, the best thing you can do is optimize your GMB listing, which is what we'll focus on next. 
4. Optimize your Google My Business Listing
Google My Business is Google's business listing directory. As mentioned above, when someone searches for a business, Google's "spiders" crawl the internet in search of the most relevant, proximate, and prominent businesses to display. Optimizing your GMB page is the best way to make sure you show up at the top of search results. 
See the image below of Allstate Pest Control's listing as a reference for completing your own listing. The first step is to create or claim your GMB listing. Once you have your GMB listing, start getting it completed and up to date. Start by adding your business name and logo—and make sure that your business name on GMB matches what appears in other places on the internet such as your website. Next, add some photos. Businesses that use images in their listings get 35% more clicks. We're not done yet. Google offers several buttons that can help direct customers toward interacting with your business. Notice how Allstate Pest Control has the following buttons: "Website", "Directions", "Save", and "Call". Of course, you can't forget a detailed description of your business. In 750 characters, describe what makes your business different from your competitors. Rather than writing your description as a sales pitch, use it as an opportunity to connect with your audience. What does your audience care about? Once you have a quality description, make sure to include some keywords before calling it good. This will help you show up in search results. Last but not least, evaluate your reviews.

5. Put Some Money Into Online Advertising
Once you've optimized your website, developed an organic SEO strategy, and updated your GMB listing, it's time to focus on paid online advertising. One of the best forms of online advertising is geofencing. What is geofencing? It's simple—geofencing allows you to market your services in a more targeted way by setting a GPS "fence" around an area as small as 1000 square feet. For example, you could target neighborhoods with older homes that are more likely to have pest problems. 
And since geofencing marketing is compatible with 92% of smartphones in the U.S., you can rest assured knowing that your money will be put to good use. This allows you to get extremely specific with your demographics that you're spending money on advertising for and helps you ensure that you're getting the best possible ROI based on these potential customers.
6. Win With Video and Social Media Marketing
When done correctly, social media marketing can be one of the best tools out there for attracting new customers. While there are many different social media sites out there, we'll focus on Facebook and YouTube for now. 
The first thing you should do on Facebook is update your profile. Fill out the About Your Page section, include your website URL, and upload a profile picture. Next, go into your settings and add the year your business was started, address, contact information, and company mission. Once your profile is up to date, it's time to create some targeted ads. Assuming you understand who your audience is, Facebook ads will allow you to be very targeted in your approach. And here's the best part—the average cost-per-click on Facebook ads is only $0.39. That's much lower than Google's average which is between somewhere between $1 and $2. 
Let's move on to YouTube. Video has become one of the most powerful marketing tools on the internet, and YouTube has 2 billion unique users every month. One of the best ways to use YouTube as a pest control business is to create educational how-to videos. Consider creating short videos that teach people tips for getting rid of different types of pests. Orkin is a great example of doing YouTube well. Their page is full of educational how-to videos as well as videos about what to expect when doing business with them.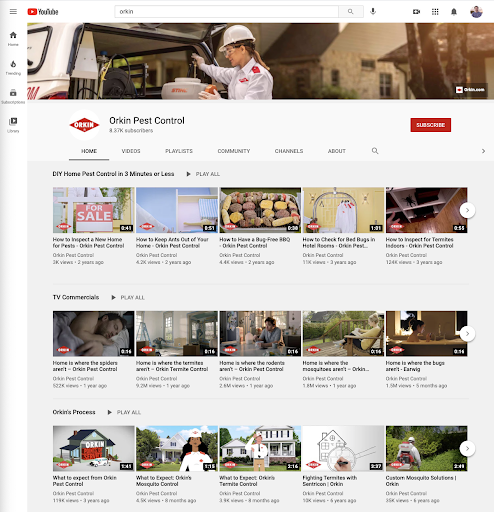 7. Invest In Review Management Software
We've covered many marketing strategies that will help you bring more customers to your business. But getting their attention is only part of the problem you're trying to solve. Once you have their attention, you then need to convince them that they should give you their money—and that starts with reviews. In fact, 87% of consumers say reviews influence them in discovering a local business. Further, 23% of consumers have read an online review in the last day, and 65% have read one in the last week. But it isn't just the review rating that matters—83% of consumers say that reviews must be recent and relevant in order to care about them. You're probably convinced that reviews matter to your business, but how do you actually get reviews? The best way is to get the right tool for the job. 
Review management software, like Podium Reviews, is the best way to generate more reviews for your business. With Podium, you can send review invites via text. Why text? Because while only 20% of emails get opened, texting has a 98% open rate. Review management software like this also makes it much easier to respond to reviews which plays a big role in how potential customers view your business. 
Conclusion: Pest Control Marketing Is Easier Than You Think
Pest control marketing isn't that hard. Sure, it can seem intimidating at first, but just follow these seven steps. And when you're ready, Podium, the leading messaging platform for home services, will be here to help you take it all to the next level. Whether you need to get more reviews for your business, capture more leads from your website, text your customers, or get paid faster, join thousands of local businesses just like yours that are growing with Podium.  
About the Author: This is a guest blog post from Podium. The premiere messaging platform that connects home service businesses with their customers.